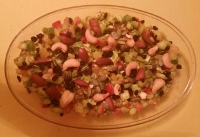 Recipe Content – all Organic:
Medium-sized Sweet Peppers chopped – 3 different types of variety and color
One medium-sized Cucumber diced
4 Celery Stalks chopped
½ Avocado chopped
10 Cherry Tomatoes cut in half or whole
¼ Cup Raw Unsalted Pumpkin Seeds
¼ Cup Raw Unsalted Almonds
¼ Cup Raw Unsalted Cashews
¼ Cup Currants
6 Dates Pitted & cut into small pieces
1 Teaspoon Turmeric
1 Teaspoon Cayenne Pepper Grounded
2 Cloves Garlic chopped or use Garlic Powder
1 Medium Sized Onion
1 Teaspoon Parsley
1 Teaspoon Thyme
1 Teaspoon Oregano
1 Teaspoon Basil
1 Teaspoon Cumin
Pinch of Sea Salt or add to taste
Combine all ingredients and mix until Avocado is completely smooth.
Serves 4-6. Reduce content size for fewer servings.